Rudy had 8 happy years, full of excitement and bouncing and yap. For Christmas 2021 we did Rudy's favorite thing, and put on the harnesses and leashes and went for walks around the neighborhood. He passed away on the morning of 2021-12-26.
left:I am ready to go home with Allan & Jane.
right:A reflective collar and new name tag make me identifiable.
Rudolph "Rudy" Dominguez-West's homepage
I came to live with Jane and Allan as a foster-to-adopt dog from Haile's Angels Pet Rescue on May 2, 2015. They couldn't wait for the Cinco de Mayo adoption event that was scheduled for later that week.
Mama captured Circling the Waggins, a short YouTube video of our first evening getting to know each other. Daddy declared that me Rudolph "Rudy" Chihuahua, Mayor of New Yap City. I'm sure he thinks he's funny. We all say we're laughing with him, not at him.
Mom and dad won me over with treats at the adoption event at Millhopper shopping center. I went home with them, and met new sibs Sophie and Rowan, who were nice to me.
I'm learning phrases like "all dogs outside" and "cookie" from mom and dad. They'll take a few days to figure out how much I eat, but they gate me and Sophie for feeding so no one can steal.
By the end of the first week, Sophie had asserted her dominance of Allan's lap, and we were able to play and tussle without any angry growls. I'm still deciding which toy I like best among the many squeaky things in the house. I'm also teaching mom and dad about my reach, which is at least a foot higher than Rowan's or Sophie's. Daddy's slippers are fuzzy, and mama's back yard shoes are chewy.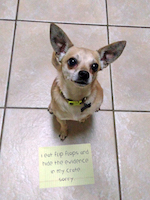 Speaking of chewy shoes, mama says that "dog shaming" is a thing. Apparently shaming means doing a trick (sit) while mama takes the picture, then eating a cookie. I have no recollection of eating anyone else's shoes. Mama says she's sorry, and I should be, too.
In 2019, when sister Sophie was 14 and slowing down, I got a new younger brother Topol. He's fun to play with, and I quickly taught him that being younger does not mean he'll win the fights. I learned well from Sophie how to nip at jonts when another dog thinks he's going to come out on top.
My Alachua County Animal Services tag number is 117256, from 2018.
In case I ever get lost, I've been microchip tagged. Mama and Daddy have registered the chip with the appropriate agency:

Chip Brand
Phone number
Chip ID
24PetWatch
866-597-2424
982000363784121
Last modified: Sunday, 26-Dec-2021 14:43:35 UTC