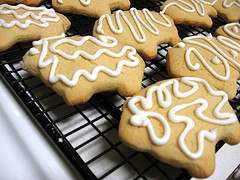 Jane writes: It's tradition. Marilou makes these cookies every Christmas. Like most family favorites I've come across, it is written down as a list of ingredients, with a very small amount of instructions which make perfect sense to those who've been baking the cookies forever. For those who aren't familiar with the recipe, I've made notes on the way I made the test batch.
Ingredients

1 cup butter at room temperature
2 cups sugar
3 eggs
1 cup milk
1 teaspoon baking soda
2 teaspoons cream of tartar
4 teaspoons vanilla
approximately 5.5 cups of flour

Instructions

Preheat oven to 375 F.
Cream butter (I didn't have enough room-temperature butter, so I used 1/2 cup butter and 1/2 cup shortening).
Add sugar and eggs. Beat until fluffy.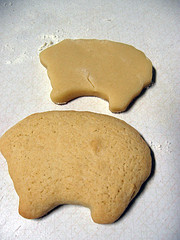 Add milk, baking soda, cream of tartar, and vanilla (at this point the batter looks really weird, but don't worry).
Add flour, one cup at a time, until the dough is stiff enough to roll out (it took about 5 cups of flour for the test batch).
Working with half the dough at at time, sprinkle dough and counter LIBERALLY with flour and roll it out to 1/4 inch thick (I used a 2" x 3" sheep cookie cutter and got about 7 dozen cookies) (also, I think a less-detailed cookie cutter would have been better, since the cookies puff a bit when cooked and my sheep now look like hedgehogs).
Place 1/4 inch apart (I used a parchment-lined cookie sheet, but I know Marilou uses a stoneware cookie sheet) and bake for 10-12 minutes or until the cookies just start turning golden on the edges (if your cookie shapes are larger or smaller, you will have to adjust the time accordingly).
Cool on a rack (I frosted mine, since these aren't very sweet and were begging for almond icing).
---
Original Recipe & Directions Below

They're the bland-ish ones, sort of like sweetened crackers, but I
haven't seen the recipe anywhere else (though we may just name them
differently than others) and I thought if I sent it to you it will be
harder for me to lose it.

Aunt Angeline Cookies

1 c butter
2 c sugar
1/2 c milk
3 eggs
1 tsp baking soda
2 tsp cream of tartar
4 tsp vanilla

Make stiff with flour.
Roll flat and cut into shapes.
Bake at 375 F.

These cookies are best when cooked the minimum amount so they're still
mostly white, barely golden.